While doing some hunting, one of my friends in Huntaholics and More, announced that one of my favorite stores was doing some scrumptious spoiling for her subscribers.
Sassy Kitty Designs,
had set up their mall and store for Halloween and was giving away a bunch of delicious gifts. Amelia(my friend), was so very kind to tp my tush over as quick as possible over to the store to partake in some very serious inventory loading. Oh yes, this was a massive, gleeful, squeal inducing moment for me, since Sassy Kitty has many items out for her loyal customers.
If you are not already signed up to her subscriber, now is the time to walk into that store and tap that board. The items that she has set out on little hay carts are just to die for and if you are in the subscriber, it's free for you. After tapping the subscriber, go browse and look at what she has..there is 5 carts that are in front of her store, filled with goodies to be had by all.
After having way too much fun filling my goodie bag with treasures, I went into the Halloween store she has set up near her main store and of course, could not resist grabbing the Romantic Empire Dress that I found there. That you do have to pay for but, it was irresistible, as are the different items that are available there..except the Halloween teddy bear..he was free and you know I tucked him happily under my arm, before jumping on my broom to head off once more.
Romantic Empire Dress w/my Teddy taking a ride on my broom


*A little side note: The broom is from Hopscotch. She updated her broom recently so it's even nicer than before..if that was possible and the pumpkin is changeable, with several designs to choose from. Hold onto your chair though..she is only charging 50L for this.*
I do believe that this have really brought me up into the proper Halloween spirit, though Wilbur(yes, I named the Teddy Bear!), did seem to be a little nervous on his first flight.
Baroque Dress
Cascade dress


The Cascade dress is given in a fat pack. The colors available are black, white and red. This is just sexy as heck but, the lines are nice and simple, so a very complimentary piece that should be in your inventory. It's not set for just Halloween either, this can be worn all year round.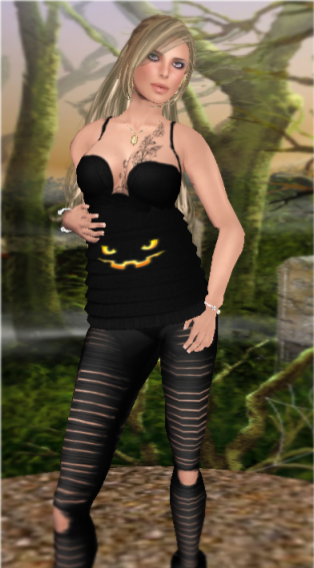 Cutie Dress
Yes, it's actually a dress though it can be worn with or without the tights. It's very into the season though there is an option of a regular skirt so it can be worn pass Halloween!
Corset black jeans w/folded Halloween top
There are several pants available on the carts but, I have to admit that this is one of my favorites there. Mix and match is just great since it is what gives you versatility and you can create several different looks with just a few pieces. The folded Halloween top comes in a fat pack, which gives you quite a few different choices. When I opened it, I could not believe how many tops she included in the box.
Cute Argyle outfit
Hot, sexy and just gorgeous are the first words that came to mind when I put this together. You just have to love this look for wherever you want to go, either dancing, exploring, shopping or relaxing with friends.
These are just a taste of the wonderful goodies to be found over at Sassy Kitty Designs. To see all of them, I suggest jumping on over and enjoying yourselves with the amazing things she has!
All I can say to Sassy Kitty is a giant thank you and Happy Halloween!