Between hunting, finding deals and a little shopping, I've been locating some really nice items in the last couple of days. For the hunting,
Shiki's Treasure Snowflake hunt
had some really amazing and cute items that had me just giggling with happiness. The Snowflake hunt is a sim hunt which I have to admit, you have to be patient with this one, there is ALOT of empty snowflakes to deter anyone wishing to use the Area Search on their viewer but, it's well worth going through and finding the gifts. The snowflakes are not hard to find either, so it's a fairly easy hunt in my opinion, just be prepared to do alot of walking. Here is one of the items I found on the hunt that I'm totally in love with: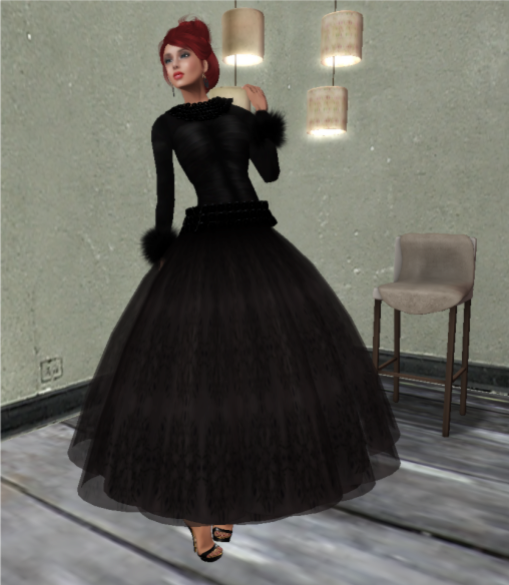 Shiki's Glamour Dress (hunt gift)
shoes:
N-Core
XtremeHeel (group gift, free to join)
dress:
Shiki
Glamour dress (treasure hunt gift, free)
As for the skin I'm using, it's from
Chain and Vine
and was a special offer for group members to stress test Lyric Demina's new vendor system. You get 4 different hued skins, from Nordic pale to Sub-Saharan dark and 2 that are in the Mediterranean tones.
Lian Skin tone with 4 tones
I'm not sure on how long the deal will be going for but, for non-members the 4 skins are 300L. For the group members, it's 75% off the price and it's free to join the group which is just an amazing deal! This is presently a sneak peek of what will be showing up over at the store, in March when the full line will be released. The full line consists of 7 skin tones, each skin tone can be purchased for 400L for each box and each skin package contains:
1 dark eyebrow skin A
1 dark eyebrow skin B
1 light eyebrow skin A
1 light eyebrow skin B
1 eyebrow shaper
1 prim eyelashes
1 face tattoo (freckles for skins 1 - 6, and special eyeliner for tone 7)
While browsing around for poses, I found a really nice little gift from
BehaviorBody
, a cute little chair with 10 different poses in it for free, no group was required.

3 of the 10 poses shown here
To create the look that I have here:
Skin:
Chain and Vine
(group sneak peek package) Lian Tone 3
Dress:
Razzanova
(group gift 10L fee to join) White Cocktail dress
makeup:
(Ag) @Kozmetika
4 for 30L Valentine offer
Earrings:
NC Paris
(group gift 0L to join) Fantasy earrings
Shoes:
N-Core
(group gift 0L to join) XtremeHeels
Hair:
Elikatira
(Away essential package 250L) Red tone 7
Chair:
BehaviorBody
(free gift) Chair w/10 poses